Coach James Ka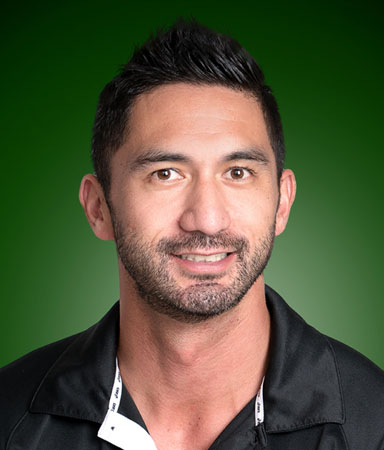 Coaching Experience:

(2011-2012): Orange Coast Volleyball Club- 18-1's head coach. Gold medal winner of the club division at the 2012 USAV Junior Nationals.
(2009-2011): Manhattan Beach Surf Volleyball Club- 17-1's head and assistant coach. Silver medal winner in the open division at the 2010 and 2011 USAV Junior Nationals.
(2007-2011): Notre Dame Academy- served as the Director of Athletics and the Head of the Girls Volleyball Program.
(2005-2006): Santa Monica Beach Club- 16-1's head coach. Silver medal winner of the open division at the 2006 USAV Junior Nationals.
Pierce Junior College- First Assistant Coach. Helped lead team to a 3rd place finish in the California Community College Athletic Association State Championship.


Volleyball Playing Experience:

Pepperdine University 2000-2005. 2005 Team Captain and National Champion.
2004: Started in every match of the season and played most of the season as Libero, but made the transition to the left side late in the season. Led the team in digs with 234. Hit .306 for the year with 73 total kills.
2003: James appeared in 25 matches, and contributed to the Waves as a serving specialist as well as maintaining a role as a reserve setter. Helped the Waves in winning the Mountain Pacific Sports Federation regular season title, along with advancing to the semi-finals of the NCAA Championships before falling to Lewis in a five-game decision.
2002: As his first year, James appeared in 11 of 34 matches, primarily as a reserve setter or as a backrow defensive specialist. Helped the Waves compile an overall record of 29-5 and advance to the NCAA title match before losing a four-game decision to Hawaii. Pepperdine won the Mountain Pacific Sports Federation regular season title plus the league's post-season tournament.
2001: Redshirted during the 2001 campaign but practiced with the team on a daily basis.

Kamehameha High School.
2000 First Team All State. HIGH SCHOOL: Played only one year of volleyball at Kamehameha High. Named to the All-Hawaii first team as a senior in 2000 and was a first team All-Interscholastic League of Honolulu selection. Helped Kamehameha High advance to the Hawaii state title match in 2000. A five-time Junior Olympics participant. Selected to Volleyball Monthly's list of "Fabulous 50" prep recruits.

Outrigger Canoe Club.
All American and Top 50 recruit.